Home
Automobile maintenance
Automobile maintenance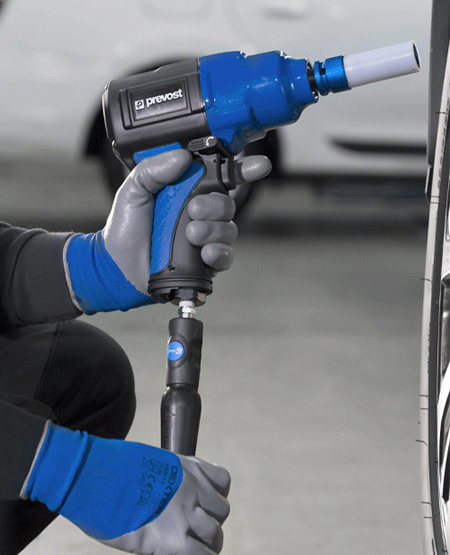 Garages and Auto Body Shops
Compressed air connections: quick safety fittings
Our top priority at Prevost is user safety, which is why our innovative line of quick couplings were specifically designed to instantaneously de-pressurised and eliminate any risk of hose whip with one simple push of a button. Pneumatic tools can be changed in one easy step to reduce user fatigue and maximize shop efficiency. The prevoS1 quick coupling meets the requirements of ISO 4414 for safety.

With a wide range of diameters and profiles, our safety couplings meet the needs of numerous applications. Their optimised flow capacity increases service life and tool perfomance. Our 11 mm internal diameter allows higher flow rates to power even the largest pneumatic tools at full capacity (ideal for a 1" impact wrench).

To avoid connection errors and to distinguish between our pneumatic couplings, all the profiles in our line are colour coded. For example the ISO B (Industrial) profile, is recognised by its blue colour.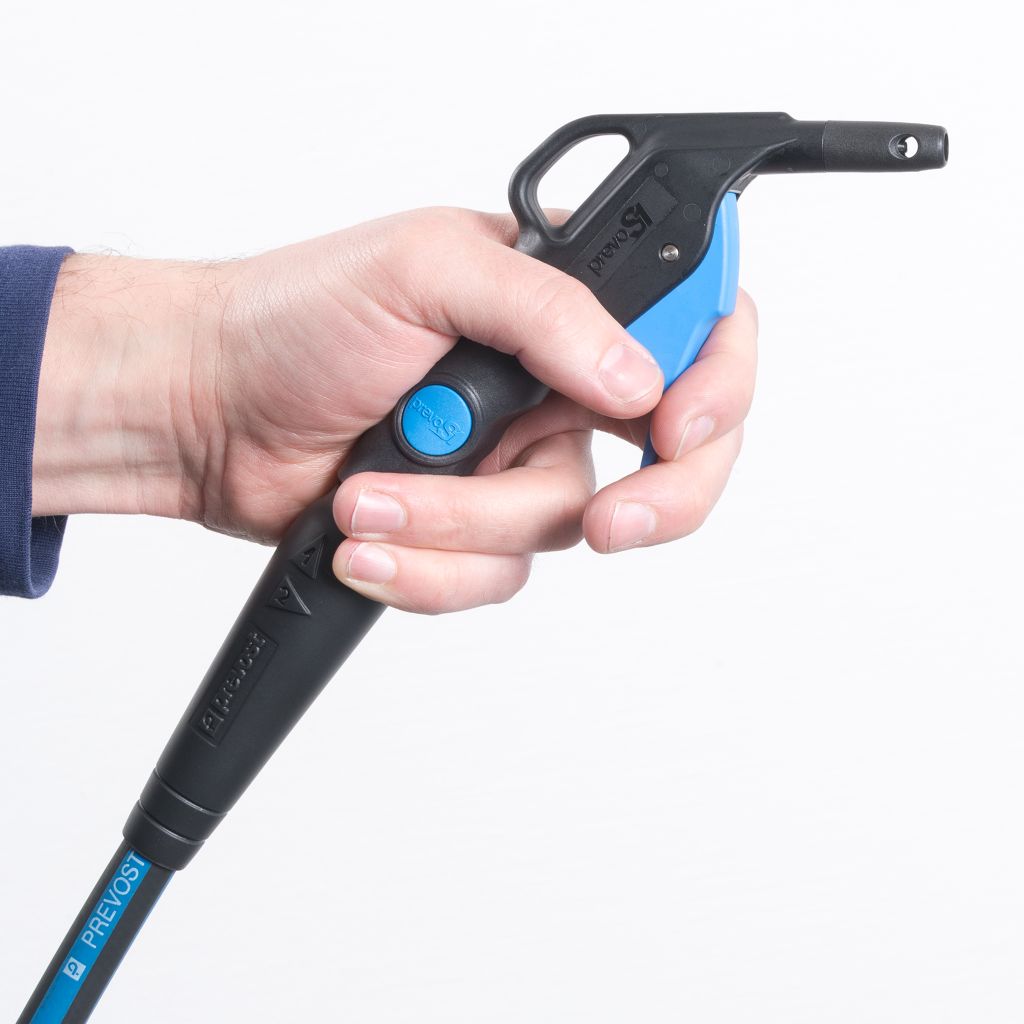 Clean workstations and hard to reach places: blow guns
An essential tool for auto body shops, blow guns keep work stations clean and allow technicians to access otherwise hard to reach areas like inside engines and car interiors. The prevoS1 blow gun is designed to fit comfortably in the palm of the hand, is easy to grip and connects securely to our quick couplings.
The 27102, our original pistol grip blow gun, is a tried and tested product that is durable and provides a long service life. There are seven different nozzle options, pick the one that is right for you.

Organise your work station and hang your blow gun on a wall mount (BG) when not in use. It can be mounted with either magnets or screws.
Pneumatic tools, a broad range at your service
Nowadays, workshops use compressed air for a multitude purposes.
The air can be dry for blowing and inflation or lubricated for pneumatic tools.

To accomodate a variety of applications, we offer a wide range of compressed air tools for:
assembling, screwing, sanding/polishing, grinding, drilling, chiselling, cutting tools and specialty tools.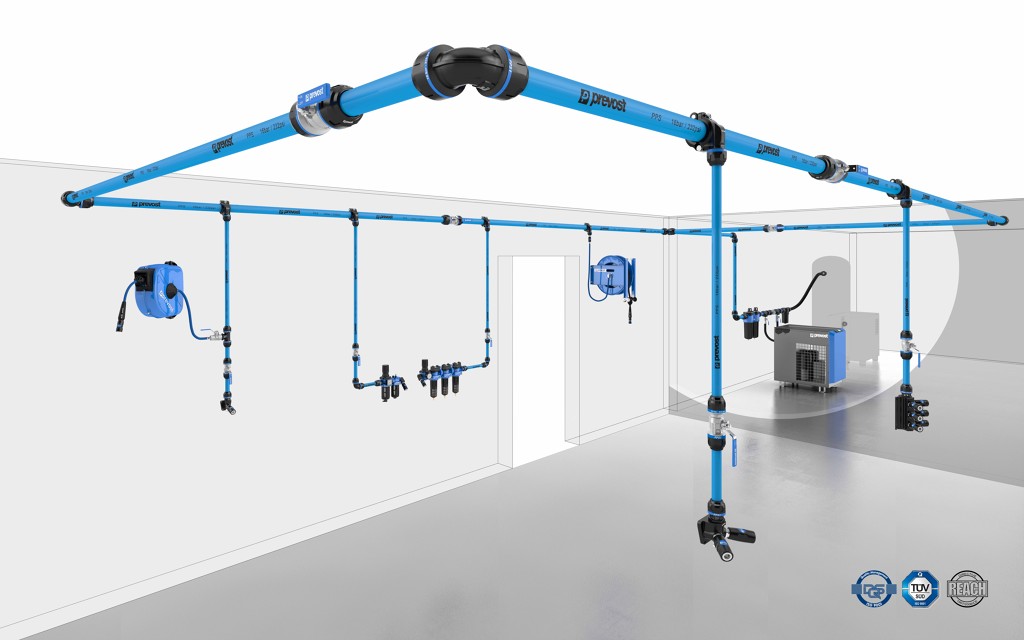 Compressed air supply: air network, hose extensions and hose reels
Our Prevost Piping System (PPS) compressed air network
When a compressed air network is installed, it is important to examine a technicians movements around a vehicle. This study will show how a work station can be organised to maximize comfort and efficiency.

The Prevost Piping System (PPS) line guarantees a leak free network, is easy to assemble and can be modified after the orginal installation as your business grows. The system's components are 100% aluminium, light weight and shock resistant.
Our flexible hose line
For garages and auto body shops we offer several flexible hoses, each with their own distinct traits. AIRCA and FLEXAIR are two popular options.
The AIRCA hose is designed with an EPDM (exterior) and SBR (interior) rubber. Its high oil and abrasion resistance guarantees consistent flow rates and extends the service life of pneumatic tools. The AIRCA hose can stand up to the most intensive applications.
Our most recent addition is the FLEXAIR polymer hybrid hose which applies the best qualities of PVC and rubber. Lightweight, ultra flexible and available as a kit with our prevoS1 saftey coupling.
Our hoses are paired with ECP rubber sleeves which cover hose connectors (clamps, barbs, etc.) to create a scratch free solution that protects delicate work surfaces. These kits eliminate costly touch ups and reworks on production pieces.
Hose Reels & Safety
Improve work place organization, efficiency and safety by installing Prevost Hose Reels. They allow technicians to move freely around a vehicle without having to worry about twisting, kinking or tripping over hoses laying on the floor. When a job is complete, simply release the brake and wind the hose back into the industrial grade housing.

Our hose reel line supports not only compressed air, but water, oil and grease as well.
Compressed air equipment for body and paint work
Micronic air filtration
For professional quality finishes using water-soluble paint, micronic filtration is a must. MICRO AIR filters offer top of the line performance and can be installed on a single work station or throughout an entire paint line.
For optimal performance, install the units at the system head or booth inlet with an air dryer to remove all trace of water which can cause cratering.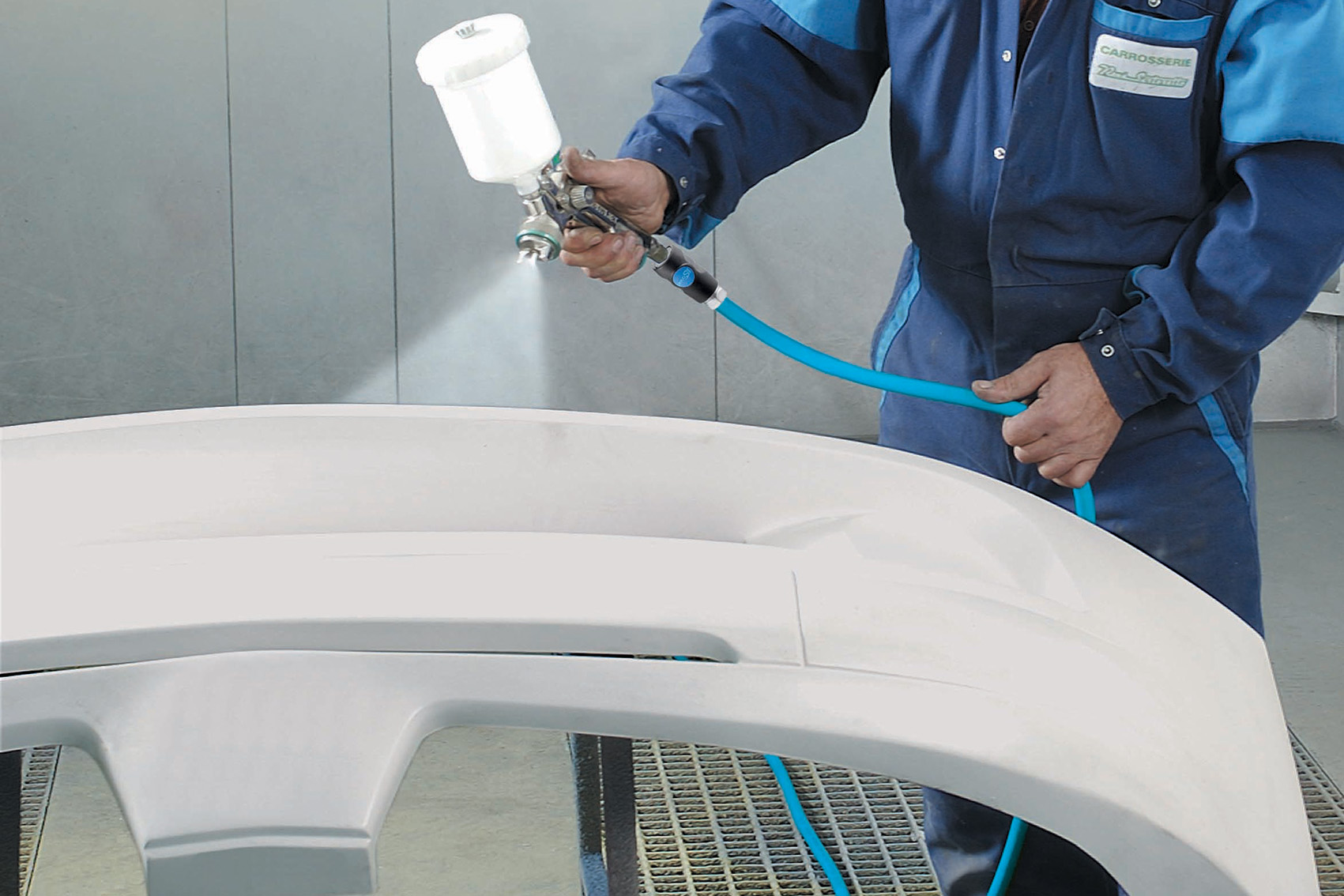 Hoses and couplings for painting
Our highly sought after STOFLEX rubber hose is the ideal tool for painting: anti-static, silicone free, flexible and heat resistant.

The prevoS1 quick safety coupling provides paint tech's with consistent flow rates, is light weight, easy to use and safe. They are also anti-static, silicone free and will not scratch work surfaces. This coupling is compatible with ATEX (potentially explosive atmospheres) standards and meets all the requirements for spray booth use.

Our spray paint guns also meet the specific guidelines for paint jobs: fine touch ups and painting large surfaces. For your convenience we have compiled our paint line into one specific document.