Home
Presentation & history
Presentation & history

The compressed air experts
Our commitment as market leaders is to continually advance our technology
and provide only the highest level of top of the line equipment to our customers.
This commitment allows us to surpass our own innovations with every new generation of product.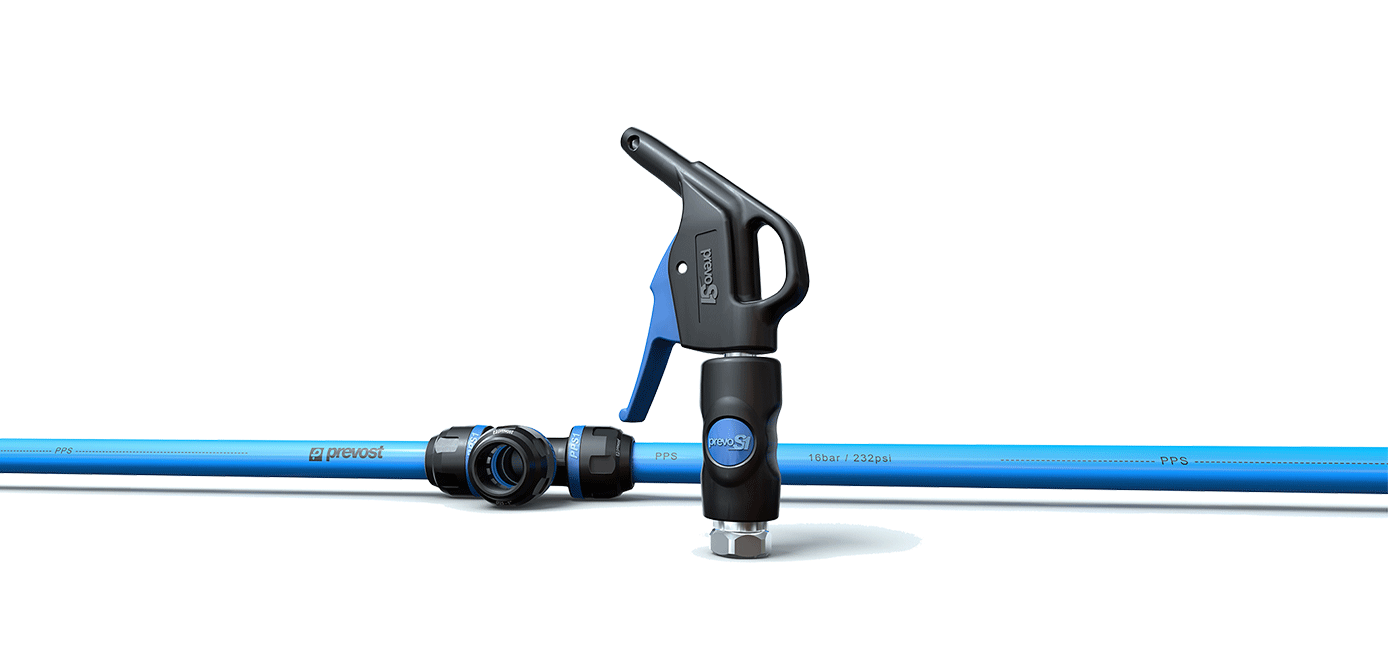 Since 1978, we have been designing compressed air and fluid distribution installations; systems that include,

■ Quick safety couplings,
■ Piping networks,
■ Filtration solutions
■ Pneumatic equipment

Our expertise and constant advancements by our in house R&D teams places us among the world's leaders in the pneumatic and hydraulic equipment industry. We are headquartered in France and operate globablly in over 80 countries.
Our mission
Propose effective quality solutions, consistent with the needs of professionals using pneumatic and hydraulic power and products dedicated to connecting and installing compressed air networks.

Innovation and quality are the key growth strategies at Prevost which is why we sell numerous patented and efficient products that meet current industry standards.
Compressed air system installation guides
Couplings have been at the center of our business since 1978. Since it's inception, the prevoS1 line became the most popular quick safety coupling for compressed air on the market today. It's innovative design is patented and recognized worldwide for its ability to disconnect hoses in one safe, easy step. Push-to-connect couplings guarantee user safety and protects surrounding equipment. The prevoS1 line is available in various connection profiles and will enhance any compressed air powered operation.
The complete Connection line
We offer an expansive and diverse range of equipment for distributing energy (air, gas, fluids, oil, water, etc.) from the compressor to the point of use. The Distribution line includes the Prevost Piping System (PPS) for compressed air powered applications. The PPS system is used in numerous manufacturing facilities (food processing, textiles, etc.), the automotive industry and construction. The system efficiently ciruculates air (or other gases) throughout the network from one work station to another. This product line includes our pneumatic tools, hose reels and prevoS1 and 27102 blow guns.
The complete Distribution line
For a compressed air system to run efficiently, air treatment equipment is a critical component. We offer numerous air treatment products for filtering contaminates, draining condensates and drying air. ALTO treatment units are available as indivual modules (filter, regulator, lubricator, filter-regulator) or complete units. They are delivered assembled and packaged with a pressure gauge and wall mounting brackets.
The complete Air Treatment range
Our distribution centers
Locations
Our primary corporate office and distribution center is located in Annecy-le-Vieux, France.

We also have offices and sales teams throughout the world to personally assist you.
Our history
1978
Prevost was founded in Annecy-le-Vieux in Haute-Savoie, an industrial region in France specializing in milling. Our focus is connection, distribution and treatment technologies for compressed air. We developed the first push button coupling with a square button.
1985
Prevost develops an exclusive technology for locking fittings.
The button on the quick coupling becomes round.
1990
Launch of the first composite body coupling in the Prevost product line.
The coupling body becomes lightweight and non-scratch.
1993
Prevost revolutionizes the compressed air industry with the first composite "anti-hose whip" safety coupling.
1997
Business in Germany begins.
The Prevost European (High Flow) profile coupling dominates the German market.
1998
Prevost's corporate headquarters in France
expands and the current building is constructed.
1999
Prevost Corp. is established in Greenville, South Carolina, USA.
2004
Business expands to Spain.
2007
The innovative prevoS1 quick connect safety coupling is launched.
It quickly becomes the benchmark coupling in the pneumatic power industry.
2008
Prevost doubles the footprint of its corporate headquarters in France.
2010
Prevost UK Ltd. is established in the United Kingdom.
2015
The prevoS1 blow gun line with embedded plug is introduced.
The prevoS1 blow gun connects directly into a prevoS1 coupling to create one seamless tool.
2016
Prevost's production facility opens in Italy.
2017
The 100% aluminium compressed air network Prevost Piping System (PPS) line is launched.
2021
The Prevost Piping System (PPS) line expands to include a 100 diameter.