Polyurethane recoils with prevoS1 safety release quick couplers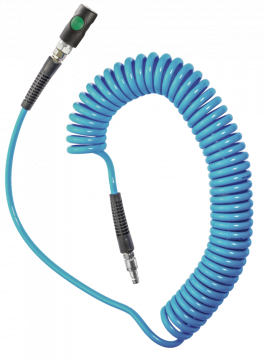 Max operating pressure
8 bar
Temperature
-15°C to +70°C
Construction
Polyurethane
Highlight
Excellent shape memory
Equipped with
Swivel fitting
Description
Reference
ID/OD (mm)
Profile
Coupler
Max length (m)
Dimensions
Description
| Reference | ID/OD (mm) | Profile | Coupler | Max length (m) | 3D |
| --- | --- | --- | --- | --- | --- |
| PUS 52ES | 5 x 8 | European 7.4 mm | ESI 07 | 2 | |
| PUS 54ES | 5 x 8 | European 7.4 mm | ESI 07 | 4 | |
| PUS 64ES | 6.5 x 10 | European 7.4 mm | ESI 07 | 4 | |
| PUS 66ES | 6.5 x 10 | European 7.4 mm | ESI 07 | 6 | |
| PUS 68ES | 6.5 x 10 | European 7.4 mm | ESI 07 | 8 | |
| PUS 84ES | 8 x 12 | European 7.4 mm | ESI 07 | 4 | |
| PUS 86ES | 8 x 12 | European 7.4 mm | ESI 07 | 6 | |
| PUS 88ES | 8 x 12 | European 7.4 mm | ESI 07 | 8 | |
Spiral hoses: Guaranteed freedom of movement
In workshops, spiral hoses are a versatile way to supply air to quick couplings, blow guns and other pneumatic tools. The length of the hose can be adjusted to allow operators to use tools within their work area with out being restricted by weight or extra hose length. There is also no risk of twisting.
Spiral hose assemblies equipped with coupling and plug. Sealed assemblies, ready for use.
Know more about the coupling prevoS1 range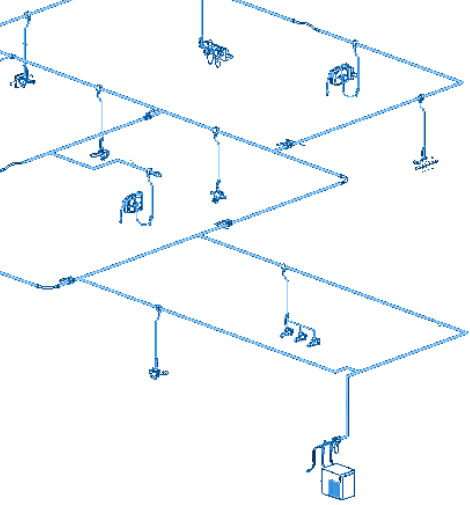 Supports & documentation
Here you will find the general catalogue, product documentation, safety data sheets, technical manuals and documents related to our spare parts.